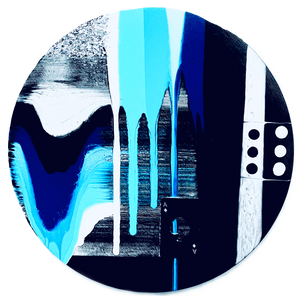 *****AS OF 3/22/23 | NEW ORDERS WILL SHIP 3-4 WEEKS***** | WORK TRIP WITH THE FAM ; ) | 143 
1 of 1.

One of a Kind. 
One in a MILL

1

ON.
Original Artwork - Acrylic
Hand-Signed. 1 of 1.
16" DIAMETER CIRCLE CANVAS
Certificate of Authenticity
Photos of paintings may have slight differences from actual items in terms of color due to the lighting during photo shooting for and/or filming.
NO RETURNS. NO REFUNDS.
ARTWORK SHIPPIN'... WHEN IT'S DONE DRIPPIN'
      (Please Allow 10-14 Days before Shipping...)